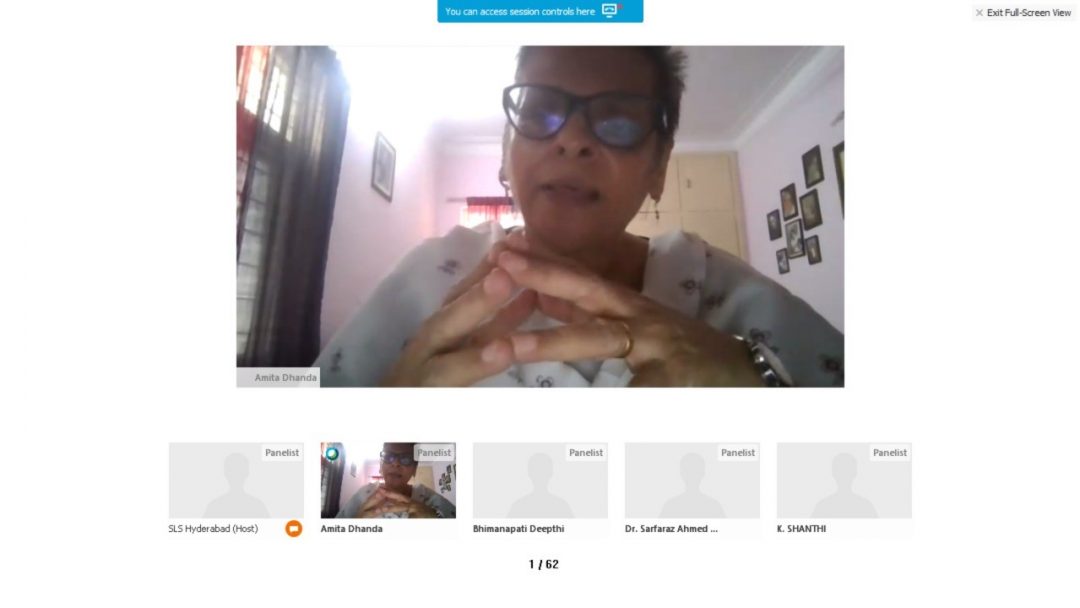 WEBINAR on MENTAL HEALTH and WELL-BEING OF WOMEN AT WORKPLACE A SUCCESS STORY OF SLS-H in COLLABORATION WITH NATIONAL COMMISSION FOR WOMEN
Mental health refers to cognitive, behavioural, and emotional well-being. It is all about how people think, feel, and behave. It was long flouted as being unimportant, but looking after one's mental health, in fact, preserves a person's ability to relish life. This helps one to attain a balance between day-to-day activities, responsibilities, and efforts for achieving psychological resilience. Various attributes in a people's life including interpersonal connections and physical factors contribute to mental health disruptions.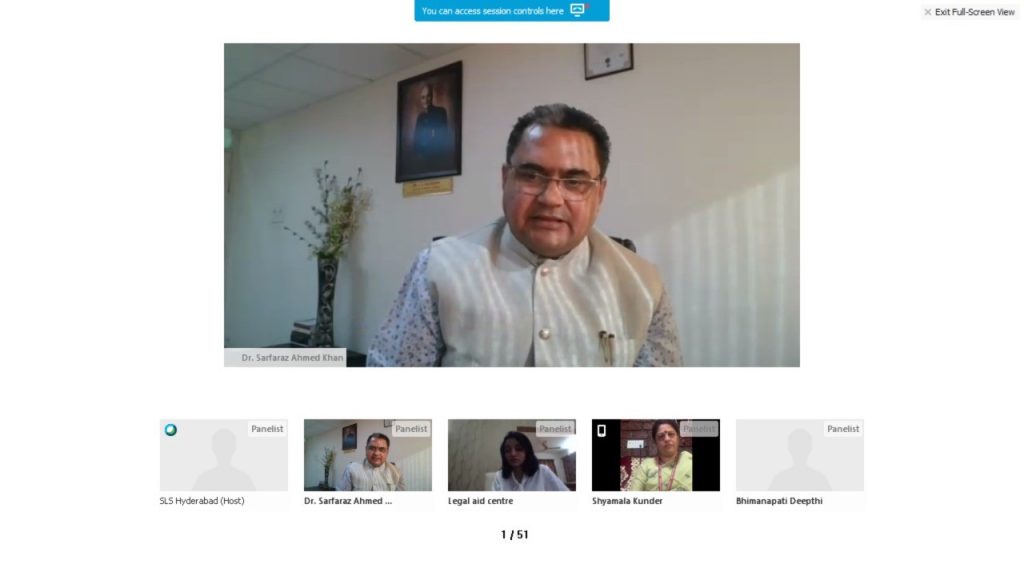 Women's well-being is often ignored and shadowed into the background. Issues like sexual harassment, unequal pay, glass ceilings and discriminatory treatment continue to plague them and often go unaddressed. In most households, the fact that women have to perform all domestic chores is taken for granted, which, in turn, widens the gulf and puts an excessive workload on women, who have to manage their professional careers as well. The absence of creches and domestic help has only added to the woes of working women during the pandemic. This additional workload has taken a toll on the mental health of women as they are hardly left with any "me" time. The absence of a conducive work environment, lack of personal time, breaks, etc. add to the stress and anxiety, leading to depression and other mental health problems. Women who have stood up or broken the shackles of this male-dominated society have to cope with closed clubs, snide comments and need to deliver twice as much as the dominant population, to be accepted, which in turn affects their mental health.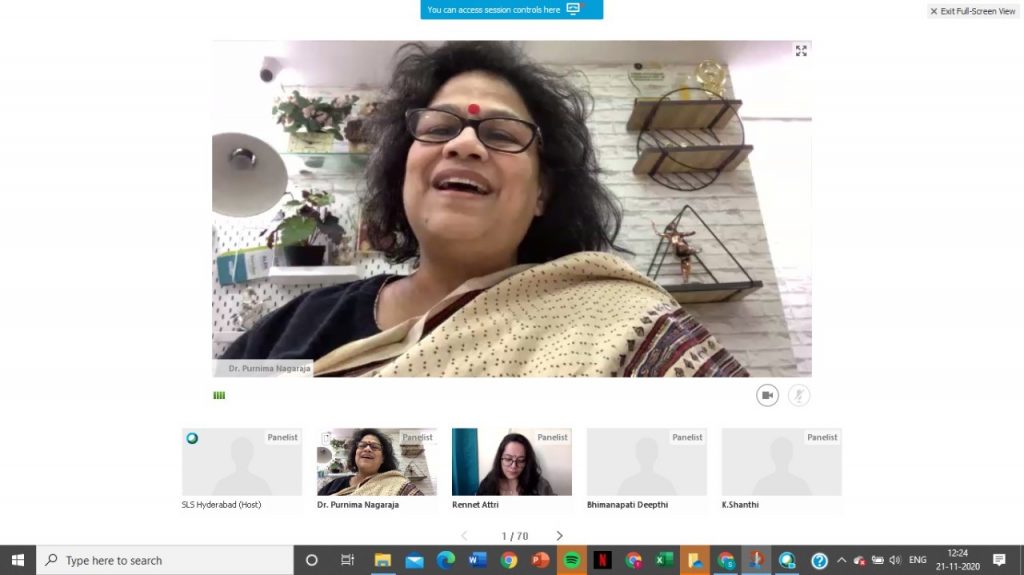 Mental health problems also harm an organization and pose a challenge to employers. Absenteeism and low productivity have a financial impact on business and in turn on the national economy as a whole. Apart from financial problems, mental health issues can also lead to alcohol and drug addictions, which can lead to other issues for employers, like untoward behaviour due to substance abuse, such as sexual harassment, violence, fighting and the knock-on issues caused by such behaviours in the workplace.
Unlike physical illness, which is generally received with sympathy and helpfulness from colleagues and supervisors, mental illness is often stigmatized, which makes a person reluctant in getting the help that he/she needs. People suffering from mental illness often fear the reaction they might receive from their colleagues or supervisors due to the social stigma attached to mental illness.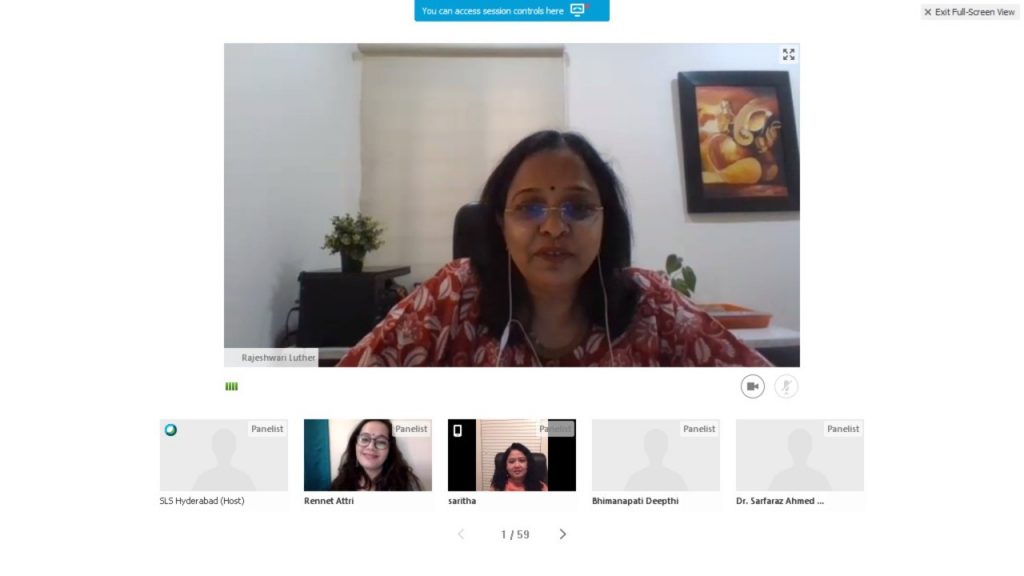 Therefore, to address the social stigma attached to mental health and to promote mental health awareness at the workplace for women, the Legal Aid Centre, Symbiosis Law School Hyderabad, in collaboration with the National Commission for Women (NCW), conducted a webinar, titled 'Mental Health and Well-being of Women at Workplace' on 21st November 2020.
The prime objective of the webinar was to sensitize people on the issues surrounding rising mental health concerns among working women, empowering them to actively take steps to cope with the stress of balancing their professional and personal lives and to encourage organizations, workspaces, employers, and governmental bodies towards creating a safer and more sensitive work environment, keeping in mind the needs of women. It was conducted over three sessions with eminent speakers heading panels addressing different aspects encompassing various issues. The session was inaugurated by Justice Nadira Pathreya, who encouraged women to speak up when faced with challenges at the workspace and highlighted the importance of sensitization on such topics. The first session was headed by a panel comprising of – Dr. Purnima Nagaraja, a Hyderabad-based psychiatrist, Ms. Deepthi Ravula, CEO of 'WE Hub' and Mrs. Sumathi Badugula, D.I.G, Women Safety. The issues deliberated upon by this panel comprised equity of pay, menstruation, maternity leaves, and support network and counseling/ mentorship programs. These were deemed as areas within an organization, which needed to focus more on providing a conducive work environment to women employees.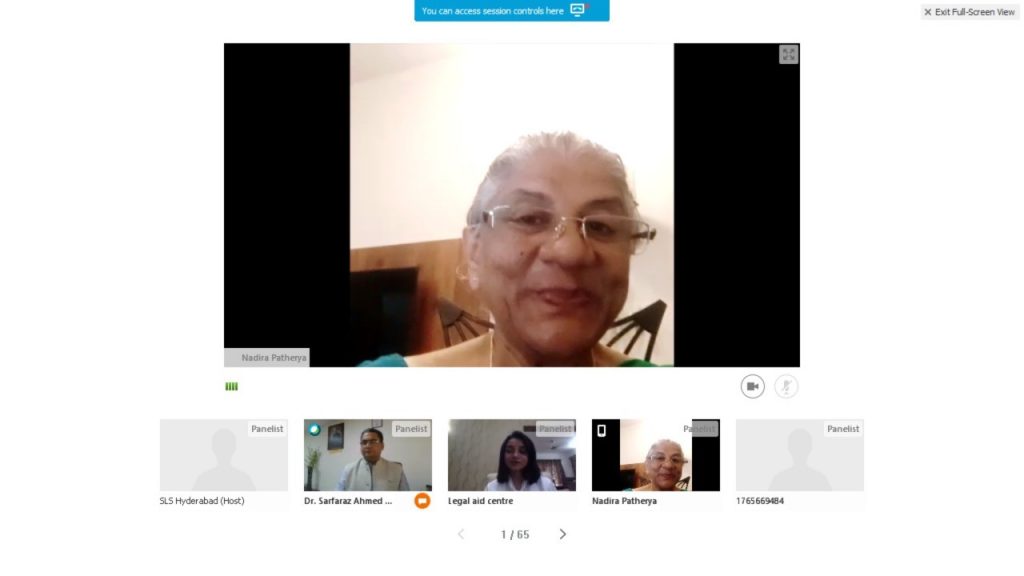 The panel for the second session was headed by Prof. Amita Dhanda, Professor of Law, NALSAR University at Hyderabad, who provided insights into the mental health of women at the workplace from a legal perspective. She highlighted the urgent need for inclusion, accommodation, and flexibility in workplaces. She also advised seeking remedies from alternative dispute resolution before looking at complaints and punishments. The third and final panel, chaired by Dr. Rajeshwari Luther, Director and Co-founder of 'Hope Trust', Asia's premier institute for addiction treatments, and Ms. Saritha Nittala, counseling psychologist and entrepreneur.
The panel delved into the methods of coping healthily with stress in professional and personal life. Various recommendations were made by the speakers, which required immediate attention and implementation. These included: Better enforcement of laws and amendments under the POCSO Act and other such legislations; framing of structured legal policies concerning various kinds of misconducts at workplaces; making of strides in practices like the Internal Complaints Committee which needs to be constituted properly, which would otherwise lead to the law not being enforced; initiatives by the government to provide mental healthcare services; active discussions about issues relating to mental well-being; identification of onus in every corporate environment to make a woman feel safe; creation of local support network and efforts at creating more local role models, encouragement for the participation of other family members is daily chores. The concept of self-care was explained, which is something that allows us to prepare ourselves against emotional triggers which the pandemic caused a lot of people to live with. It was suggested that people can empower themselves in a triggering situation by practicing self-care and counseling techniques. The participants were further advised to utilize online counseling services and claim their benefits.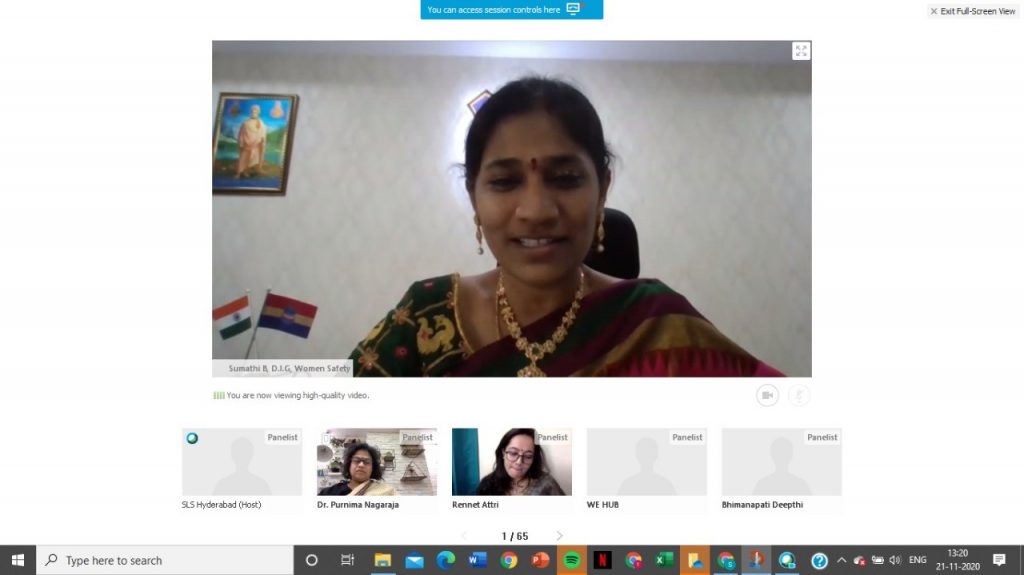 The valedictory ceremony began with Ms. Shyamala S. Kunder, Member, National Commission for Women, thanking all the participants for their active participation throughout the session. She pointed out how there has been an advancement in the kind of work women have been doing, or are entitled to do, with there still being a lack of common understanding about their mental health with social stigmas still surrounding them, when they choose to assume familial as well as professional responsibilities.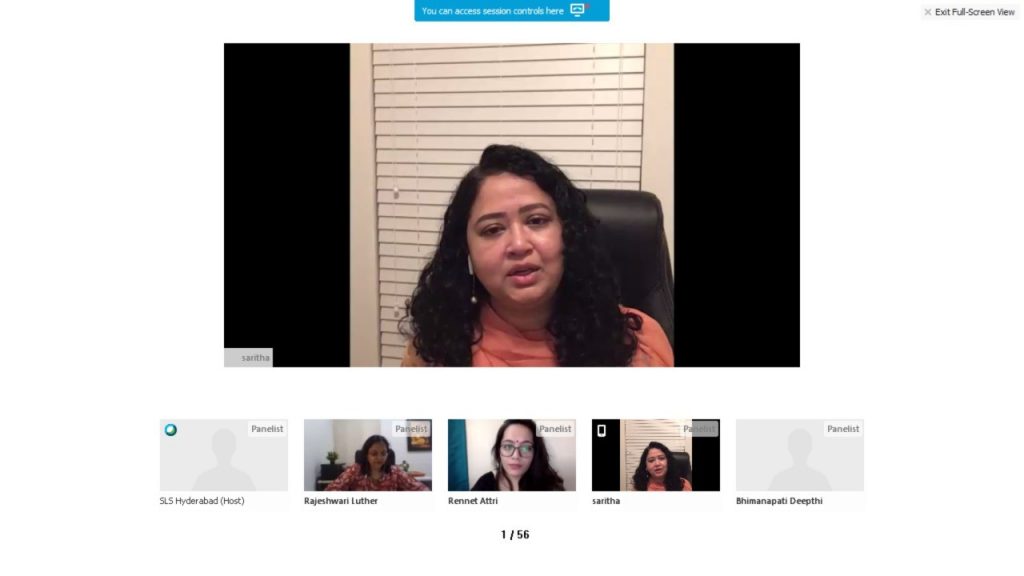 The webinar-sessions hosted over 600 participants from around the country, with a diverse audience including students, corporate organizations, and working women. Active participation of the participants led to a healthy interaction between them and the speakers, facilitating this initiative to come to fruition.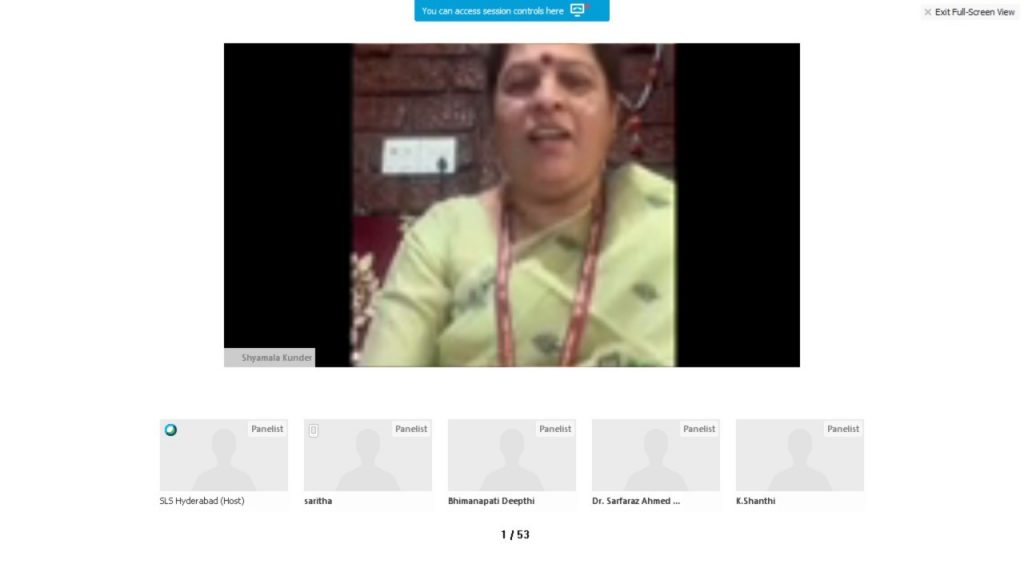 Thanks to the Legal Aid Cell for the Report on the NCW Webinar