A Report on Blog Writing and Publication Workshop by The Blogger's Club
The workshop on Blog Writing and Publication was organized by The Bloggers' Club on 26th March 2021. The objective of this workshop was to upskill and enhance the art of writing on a blog platform. The workshop was to assists in delving into content writing by addressing the various steps required in writing a blog. It aimed to furnish the students and faculty with the right instruments involved in the selection of a topic, style of writing, presentation among others. Furthermore, it was an enriching opportunity for the participants to observe the inner workings of content writing and understand its relevance. The meeting started with an opening address by Dr. Anuradha Binnuri, Officiating Director of Symbiosis Law School, Hyderabad. The meeting was further addressed by Ms. Shabina Akhtar, Assistant Editor of The Telegraph Online and Mr. Tanuj Kalia, Founding CEO and Publishing Editor, Lawctopus.
Ms. Shabina Akhtar was very delighted to see the enthusiasm of the students to mine the secrets of blogging. She came up with amazing pointers for young and new bloggers. She talked about why a blog related to law is necessary. She suggested that the ultimate aim of a blog should be to define a problem and find a solution to it. She stated that a blog is a two-way conversation and therefore "an idea must interest you but it should always sync in with the audience". She stressed upon the fact that research is the key to success in this field. She gave a few pointers on how new bloggers can expand their reach such as the utilization of social networking sites, inviting guest authors and combining vlog with the blog.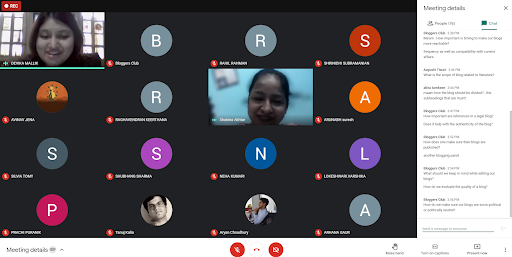 Mr. Tanuj Kalia was very excited about the session, and he talked about the fundamentals of blogging. He elaborated on why one should blog. He suggested being a voracious reader, working on one's writing skills, and looking for authentic feedback helps one to develop a good blog. According to him, the concept of "Ikigai" is the best way to find one's niche specialty. He talked about the business and marketing aspect of blogging. He cautioned new and future bloggers about maintaining a healthy balance between hot topics and what one should be blogging about. He threw a pointer at the bloggers who self edit their content, that is, "I suggest not to wear an editor's hat while you are in the process of writing." He also talked about the soft skills required in the field. The resource persons were swarmed with questions from the participants about how to be effective editors, how to keep the reader engaged with the content, how to use SEO, team building and many more.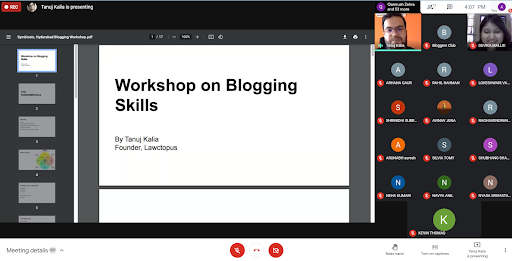 The event was concluded with a brief conversation between Dr. Srinivas Bandameedi about how to train future bloggers and a Vote of Thanks by Ms. Devika Mallik.
Tag:
blog
,
blog writing
,
blogging
,
editor
,
lawctopus
,
Mr. Tanuj Kalia
,
Ms. Shabina Akhtar
,
publication
,
SEO
,
students
,
workshop