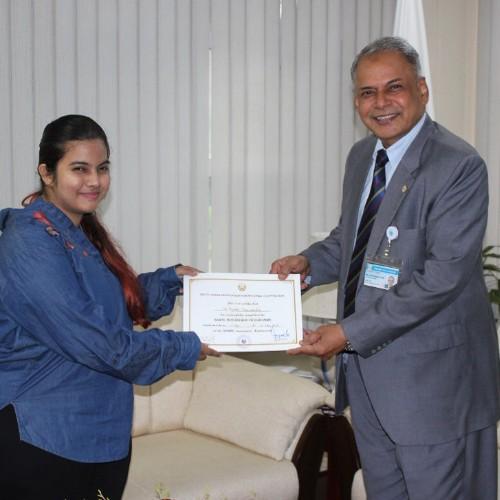 "Symbiosis Law School Hyderabad has provided me with the best facilities and a congenial environment for self-development" – says PRIYANKA SAHASRABUDHE of batch 2014
Priyanka is currently working as the Business executive at Slingsoft, Bengaluru.
Symbiosis Law School, Hyderabad, came to me at a time when I was looking for colleges for admission. The prospect of it was both interesting and a viable option for , being from Maharashtra, the value of the Symbiosis brand was not an unknown thing. As a part of applying too different colleges, I applied for the Symbiosis Entrance Test or SET. And, at this point I was intimated of the opening of a new campus of Symbiosis a few kilometers from Hyderabad. After clearing three rounds of screening, I was finally selected for the Hyderabad campus. Symbiosis is known for being a premium institution of excellence in the field of education and overall grooming and keeping those thoughts in mind, I accepted my admission offer from SLS-H. My biggest reason for choosing Symbiosis was its glorious brand name renowned all over the world.
As a person who has always been interested to go into the corporate world, it was of utmost importance to me that my college teaches me not only the theoretical aspect of the subject but as well as the practical and real world ways. SLS did exactly that. Now, working in the real world, I can say that the lessens given by my college prepared me for the outside world and taught me the ways of the world. It helped me grow into an independent woman from a person who had never before seen the real world. The co-curricular activities and extra-curricular activities added a greater incentive in my college life. The chance to participate in various national seminars and conferences, broadened my horizons and gave me the chance not only to develop skills, but also interact with various distinguished people of the field.
Having lived at home with my parents for all the years before leaving for college and staying in hostel for eight months in a year was the most difficult aspect. And, at first with only a couple of us in the Girls Hostel, it was a little difficult to adjust. But, as time passed and I familiarized myself with my batch mates turned friends and the on-campus faculty, I started enjoying my hostel life and that is something that was a constant till the very last day. Having a great roommate was an added advantage and along with that, a beautifully designed hostel rooms with attached washrooms was a great factor. The atmosphere in the hostels was always lively and enjoyable. And, those are the times which I miss the most when I think about my days at SLSH.
Symbiosis Law School, Hyderabad provided me with the best facilities that were available. With great faculties and a congenial environment, it is a place which will change your life completely. It will give you a peek into what the real world is. I became a more confident, forthcoming person in these five years spent here and I will be forever thankful to my alma matter for the same.