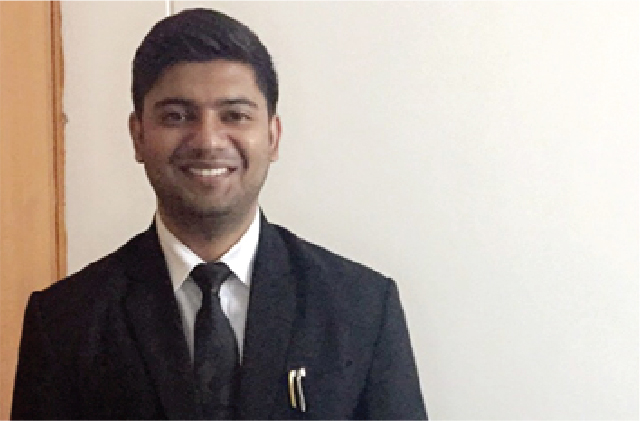 The co-curricular and extra-curricular activities organized by the institute was a great factor in boosting my confidence…"- Says Asmit Chitransh of Batch 2014
Asmit is currently preparing for Judicial Services
My journey with SLSH began in 2014, when I was first acquainted with the institute through a mail that I received for Provisional Registration. This was in furtherance of the SET that I had given for admission into Symbiosis. I was apprehensive as well as excited to go to this new place which had just started. Eventually, when I joined college, I came with an expectation of getting high quality education in a healthy studying environment with the best faculties available. However, with time I realized that along with good infrastructure and faculties it was the overall experience which was most important. And, when I finally graduated from college in 2019, I can positively say that my expectations were met.
SLSH provided the students with world class faculties who helped me in every step of the way. They were approachable at all times and played a major role in my overall development. There have been many instances in which they went out of their way to help me. They personally guided me in research projects and gave suggestions for improvement. The co-curricular and extra-curricular activities organized by the institute was a great factor in boosting my confidence along with giving me a chance to showcase my talent in various fields. I participated in inter and intra-college moot court competitions which gave me a real life court experience. As an educational institute, SLSH has shaped me in such a way that I am capable to facing the outside world in a confident and mature manner. It has trained me to overcome obstacles in the workplace along with in the personal space. The major reason for this are the compulsory internships that the college emphasizes upon. The internships gives an insight into the practical world and how everything work. Being, inclined towards litigation, I worked in the High Courts and other Tribunals, which helped me in understanding the Court proceedings.
While talking about the experience at college, it is imperative that hostel plays a major role in one's development and after leaving college, it is those memories of the college which stay with us. For me, the hostel experience was beyond words. It was one of the best things that I took back from college. The experience of living together with different people and sharing your daily lives, teaches you to become self-sufficient and independent. And, now when I live alone, the lessons learnt in hostel help me a great deal. As an alumni, I can say with surety that SLSH will give you an interesting and fruitful five years of your life which you'll cherish years after you have left the institute.