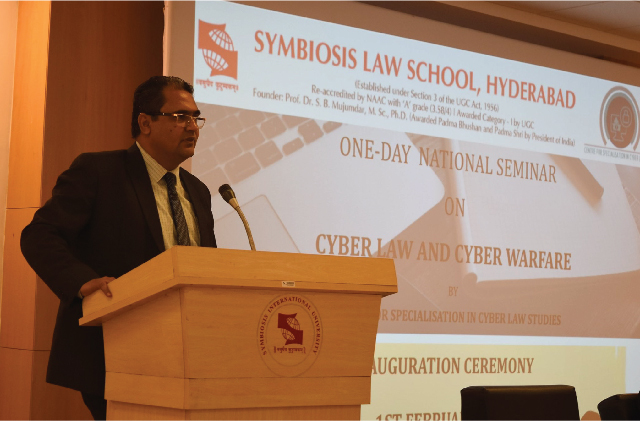 Prof. (Dr.) Sarfaraz Ahmed Khan

Welcome to Symbiosis Law School, Hyderabad!
Symbiosis blends excellence and diversity on an unmatched scale. The SLS community brings in talents from around the country and creates a strong unique community of exceptional youngsters and ambitious individuals from diverse backgrounds. The objective of SLS Hyderabad is to provide the best facilities and faculty in order to create the best kind of leaders; the kind of trailblazers who treat others with the values of respect and empathy to channelize the motto given by our Hon'ble Chancellor, Dr. S.B. Mujumdar- "Vasudhaiva Kutumbakam" or "the world is one family".
SLS Hyderabad cherishes the differences and diversity as a source of strength in order to study, write, explore and advocate the greatest principles of law and justice in ever changing, dynamic world.
We provide a rich set of curricular and co-curricular opportunities for the students to explore and act upon. SLS Hyderabad provides students with incredible academic opportunities and the institute encourages students to take up initiative to organize conferences and events supported by 30+ academic centres, cells and clubs in order to give a wider communal perspective to the budding civil servants, advocates and exceptional leaders.
We follow pedagogies inspired by best practices from Legal Education Institutes world wide. Apart from being at par with the best Law Schools in the country in terms of academic and non academic practices, SLS Hyderabad has a wonderful infrastructure. The campus is cocooned in a lush green paradise, away from the hustle bustle of the city, which gives everyone an opportunity to truly reflect upon their purpose as a part of this young and thriving family.
We have come up with this idea of having a student centred blog to appreciate the initiatives taken by our students in academic as well as non academic activities. With this Blog, we intend to provide a platform to our students as well as faculties for discussing their life on our Campus and their experiences in various capacities.
Whoever you are and whatever you choose to do in the discipline of law, Symbiosis Law School, Hyderabad will give you an opportunity to bloom.


All the best regards!
Prof. (Dr.) Sarfaraz Ahmed Khan
Director, Symbiosis Law School, Hyderabad